Mrs. Frolich's 5th Grade Class from Benjamin Rush Elementary School were invited for an afternoon tea.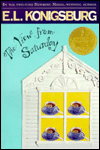 Both Mrs. Rahn's class and Mrs. Frolich's class read The View from Saturday by A. Konigsburg. The 4 main characters in the book had and English Tea every Saturday as they prepared for an academic bowl. The English Tea at Philadelphia Biblical University involved a discussion of the book, the history of the English Tea, and sample questions about the book for prizes. The students also enjoyed a tour of the M Activity Center. Many of the children had never had tea or been to a college campus. It was a good experience for the fifth graders and the college students.
Mrs. Rahn's Developmental and Diagnostic Reading Class sponsored and prepared the tea.