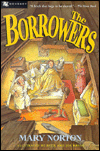 Book Review
Reviewed by: Priscilla Anderson
The Borrowers by Mary Norton
Illustrated by Beth and Joe Krush
Published by Harcourt, Brace and World, Inc., New York

Age Level: 4th and 5th Grades.
"The Borrowers" is a fun and adventurous story about a family whose largest member is no bigger than a pencil. This family, "The Borrowers': get their name through their habit of borrowing from the family who lives in the house with them. They are known as "the Bigs", and they are just that, big. Adventures come with every turn of the page sending fear of possible capture. The reality of
children's secret fantasies of people living in the walls, makes this book so spell binding .

Children may need some help with words because of some of the book being written in the Old English language. As well as letting them have fun with the story, it spreads their vocabulary and their education of the English culture.

This would be a good book to read in front of a third grade classroom aloud. In many ways, this book helps children with fantasy and the joy of imagination. There is a sequel to this book that the adventures of the Borrowers continue.

Available through Amazon Books.